Jace Cadle Dawg Burnett BB Lee
Jace n' Lee
Song Lists
Jace n' Lee is not a "Cover Band". However, the professional musicians in the band can and will play other musicians songs upon request. .A hard copy of the list is available at the bottom of the page.
In addition to many originals (frequently requested at our regular venues) we play these and more. We change our Song List to match your venue. Please refer to the list that best matches your venue.
Please note: We don't have predetermined set lists. Jace n' Lee plays to the crowd that night, and what they want to hear. We rarely play the same song in the same show unless its by special request. And, we don't play songs in the same order. No one wants to hear the exact same thing every night. Our regualar venues have us play 3 - 7 nights in the same week. We have fans that show up every night. They love the fact we keep it interesting night after night.
Thank you...Jn'L
artist & song List for Country/Rock Venues
Artists:
Johnny Cash
Johnny Cash & June Carter
Johnny Cash & Kris Kristofferson
Bill Withers
The Doors
Cross Canadian Ragweed
Kenny Chesney
Thompson Square
Johnny Rivers
Johnny & Edgar Winter
Stevie Ray Vaughn
Z.Z. Top
George Jones
Pat Travers
Brooks & Dunn
Cream
Tom Petty
Chuck Berry
Marshall Tucker
Brad Paisley
Cat Stevens
Dr. Hook & The Medicine Show
Zac Brown Band
Grand Funk Railroad
The Beatles
Steve Earle
John Denver
Tim McGraw
Jim Croce
Lynyrd Skynyrd
Rolling Stones
Otis Redding
The Charlie Daniels Band
Gary Stewart
Poison
Hank Williams Jr.
Dwight Yoakam
Little Texas
The Knack
Willie Nelson
Merle Haggard
Willie Nelson & Merle Haggard
Willie Nelson & Ray Charles
Waylon Jennings & Willie Nelson
Waylon Jennings
Dierks Bentley
Miranda Lambert
The McCoys
Credence Clearwater Revival
Grand Funk Railroad
Travis Tritt
Kris Kristofferson & Rita Cooledge
The Eagles
Confederate Railroad
Toby Keith
Green Day
Smash Mouth
Gregg Allman
Phil Collins
Goo Goo Dolls
John Mellencamp
Ray LaMontagne
Hank Williams
Georgia Satellites
3 Doors Down
Eric Clapton
Bob Marley
John Lennon
Sam the Sham & the Pharoahs
The Kingsmen
Soggy Bottom Boys
Allman Brothers
David Allen Coe
Garth Brooks
The Commitments
Elvis Presley
Alison Krauss
Bob Seger
Kentucky Headhunters
Charlie Pride
Everlast
Dr. Feelgood
The Doors
The Slew
Johnny Rivers
John Anderson
Ben Harper
Montgomery Gentry
Jason Aldean
Dire Straits
Terri Gibbs
Alabama
Gary Allan
The Who
Joe Cocker
Johnny Paycheck
The Band
Amazing Rhythm Aces
George Strait
Old Crow Medicine Show
Lonestar
Carl Wilson
Righteous Brothers
Songs:
Ring of Fire
Cocaine Blues
Folsom Prison
Hurt
Jackson
Sunday Morning Coming Down
Ain't No Sunshine
Roadhouse Blues
Alabama
Sick and Tired
Amarillo By Morning
Are You Gonna Kiss Me or Not
Baby I Need Your Lovin'
Baby What'cha Want Me to Do
Pride and Joy
Look At Little Sister
Texas Flood
Barefootin'
House is a Rockin'
Mary had a Little Lamb
Leave My Little Girl Alone
La Grange
Tush
She Loves My Automobile
Beer Drinkers and Hell Raisers
Blue Jean Blues
Boney Maronie
Boom Boom OGTL
Boot Scootin' Boogie
Honky Tonk Stomp
Hard Working Man
Neon Moon
Born Under a Bad Sign
Breakdown
Free Fallin'
Last Dance With Mary Jane
Johnny B. Goode
Can't You See
My Next Broken Heart
Cats in the Cradle
Wild World
Carry Me Carrie
Cover of the Rolling Stone
Chicken Fried
Toes
Closer to Home/I'm Your Captain
Some Kind of Wonderful
Come Together
Slow Down
Why Don't We Do It In the Road
Galway Girl
Copperhead Road
Guitar Town
Country Roads
Cowboy in Me
Southern Voice
Indian Outlaw
You Don't Mess Around with Jim
Sweet Home Alabama
The Ballad of Curtis Lowe
Simple Man
Tuesday's Gone
Dead Flowers
Honky Tonk Woman
Dock of the Bay
Drinkin' My Baby Goodbye
An Empty Glass
Every Rose Has its Thorn
Family Tradition Whiskey Bent and Hell Bound
Fast as You
Guitars, Cadillacs, Hillbilly Music
God Bless Texas
Good Girls Don't
Whiskey River
I Think I'll Just Stay Here and Drink
Working Man Blues
Pancho and Lefty
Seven Spanish Angels
Good Hearted Woman
Lonesome, On'ry and Mean
Luckenbach, Texas
Outlaw Bit
Lot of Leavin' Left to Do
What Was I Thinkin'
Gunpowder and Lead
Kerosene
Hang on Sloopy
Have You Ever Seen the Rain
Lodi
Midnight Special
Heartbreaker
Help Me Hold On
Here's a Quarter
T-R-O-U-B-L-E
Modern Day Bonny and Clyde Help Me Make it Through the Night
Hotel California
Take It Easy
I Am Just a Rebel
Queen of Memphis
Trashy Women
As Good As I Once Was
I Fought the Law
I'm a Believer
I'm No Angel
In the Air Tonight
Iris
Jack and Diane
Pink Houses
Jolene
Trouble
Kaw-Liga
Keep Your Hands to Yourself
Kryptonite
Layla
Let Her Cry
Stir It Up
Let it Be
Li'l Red Riding Hood
Louie, Louie
I'm A Man of Constant Sorrow
Melissa
Soulshine
Mona Lisa Lost Her Smile
The Ride
You Never Even Called Me By My Name
I Love Robbing Banks Much to the Young
Thunder Rolls
Mustang Sally
Never Been to Spain
When You Say Nothing at All
Turn the Page
Night Moves
Sun Spot Baby
Beautiful Loser
Nut Bush City Limits
Oh Lonesome Me
Ole Cotton Fields
Put Your Lights On
Riot in Cell Block #9
Roadhouse Blues
Secret Agent Man
Seminole Wind
Sexual Healing
She Couldn't Change Me
She's Country
So Far Away
Somebody's Knockin'
Song of the South
Songs About Rain
Squeeze Box
The Letter
I'm The Only Hell(My Mama Ever Raised)
The Weight
Third Rate Romance
Troubadour
Wagon Wheel
Walking in Memphis
Youngblood
Unchained Melody
artist & Song List for Rock n' Roll Venues
Artists:
Shinedown
John Mayer
Pink Floyd
Seether
Hailstorm
7 Mary 3
Ray LaMontagne
Bush
Rehab
C.C.R.
Creed
Sublime
3 Doors Down
Green Day
Live
Life House
Z.Z.Top
Maroon 5
Blues Traveler
Metallica
Sister Hazel
Bob Seger
Damien Rice
Kings of Leon
Howie Day
Oasis
Johnny Lang
The Fray
Lustra
Allman Brothers
Foo Fighters
Wall of Voodoo
Elton John
Smash Mouth
Shawn Mullins
Dire Straits
The Outfield
Buckcherry
Gov't Mule
Kenny Wayne Sheppard
Gnarles Barkley
Bare Naked Ladies
Mr. Big
Rolling Stones
The Who
Ryan Adams
Bruce Springsteen
U 2
Goo Goo Dolls
Hootie & The Blowfish
Social Distortion
Everlast
Black Crowes
Stevie Ray Vaughn
Incubus
Peter Gabriel
Ben Harper
5 Finger Death Punch
Tom Petty
Greyson Chance
Grace Potter
The Pretty Reckless
Johnny Winter
Cat Stevens
Sheryl Crow
Johnny Rivers
Gregg Allman
Pat Travers
Phil Collins
Albert King
Marc Cohn
Poison
John Lennon
Leonard Cohen
Steve Earle
Grand Funk Railroad
The Bee Gees
The Greg Kihn Band
Bonnie Raitt
The Romantics
John Mellencamp
Tommy James
Yard Birds
Eric Clapton
Ted Nugent
Bob Dylan
Guns n' Roses
Blackfoot
Van Halen
Alice Cooper
Temptations
Afroman
The Beatles
Steve Miller Band
Three Dog Night
Bob Marley
Billy Idol
Marshall Tucker
Blue Cheer
Lynyrd Skynyrd
Robert Palmer
Journey
Sam the Sham & the Pharaohs
Righteous Brothers
Songs:
Simple Man
Waiting on the World to Change
The Wall
Broken
Country Song
I Get Off
Cumbersome
Jolene
Trouble
Glycerine
Sittin' at a Bar
Midnight Special
Travelin Band
Have You Ever Seen the Rain
Suzi Q
One
Rivers of Babylon
What I Got
Kryptonite
Here Without You
When I Come Around
Lightning Crashes
You and Me
I Thank You
La Grange
Tush
She Loves My Automobile
Beer Drinkers and Hell Raisers
Blue Jean Blues
She Will Be Loved
Run Around
Tuesdays Gone
All for You
Turn the Page
Night Moves
Sun Spot Baby
Beautiful Loser
Nut Bush City Limits
9 Crimes
Use Somebody
Collide
Wonderwall
Breakin' Me
How to Save a Life
Scotty Doesn't Know
Melissa
Trouble No More
One Way Out
Midnight Rider
Black Hearted Woman
Times like These
Mexican Radio
Tiny Dancer
I'm a Believer
Can't Remember Summer
So Far Away
Your Love
Lit Up
Soul Shine
Blue on Black
Crazy
Old Apartment
To Be With You
Some Girls
Loving Cup
Honky Tonk Women
Jumpin' Jack Flash
Dead Flowers
Beast of Burden
Squeeze Box
Oh My Sweet Carolina
Come Pick Me Up
I'm on Fire
One
With or Without You
Iris
Let Her Cry
Hold My Hand
Ball and Chain
Put Your Lights On
She Talks to Angels
Pride and Joy
Look At Little Sister
Texas Flood
Barefootin'
House is a Rockin'
Mary had a Little Lamb
Drive
In Your Eyes
Sexual Healing
Bad Company
Learning to Fly
Last Dance With Mary Jane
I Won't Back Down
Free Fallin'
Breakdown
Cheyenne
Medicine
Make Me Wanna Die
Johnny B. Goode
Divin' Duck
Wild World
First Cut
Secret Agent Man
I'm No Angel
Boom Boom OGTL
In the Air Tonite
Born Under a Bad Sign
Walking In Memphis
Every Rose Has Its Thorn
Imagine
Hallelujah
Galway Girl
Copperhead Road
Guitar Town
Heartbreaker
American Band
Some Kind of Wonderful
To Love Somebody
The Greg Kihn Band
Angel From Montgomery
What I like About You
Pink Houses
Jack n' Diane
I Think We're Alone Now
For Your Love
Layla
Cat Scratch Fever
Wang Dang Sweet Poontang
Watchtower
Lay Lady Lay
Like a Rolling Stone
Knockin on Heaven's Door
Train Train
Ice Cream Man
I'm Eighteen
My Girl
Because I Got High
Let it Be
One After Nine O Nine
Slow Down
Why Don't We Do It In The Road
Back in the U.S.S.R.
Joker
Never Been to Spain
Stir It Up
No Woman No Cry
Money Money
White Wedding
Can't You See
In My Own Way
Summer Time Blues
Sweet Home Alabama
The Ballad of Curtis Lowe
Simple Man
Bad Case of Lovin' You
Don't Stop Believing
Li'l Red Riding Hood
Unchained Melody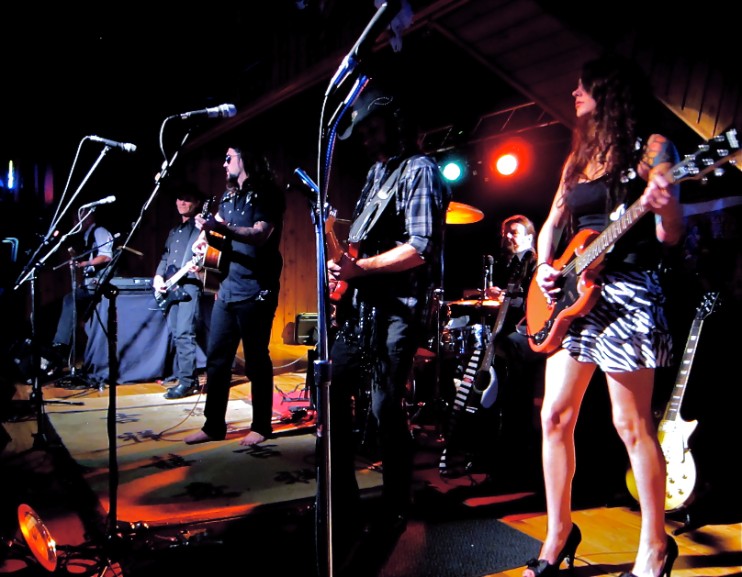 The Jace n' Lee Press Kit (all 5 parts) is available
by clicking the Name of the Documents below:
And feel free to print the photos too....thank you,
Jace n' Lee