Jace n' Lee's first Friends and Family Music Festival in Conyers, Georgia on Saturday, May 29th was a huge success. There was a great turnout despite being on Memorial Day weekend. We want to thank everyone that came out to enjoy the music on a warm summer day and thank goodness, the rain held off.
Click here to see pictures (courtesy of Traveling Darkroom).
To order photos from the Festival click here to contact Traveling Darkroom.
We'll be adding some videos very soon.
A big thank you to Legacy, Frizzy, and Escape Ferocity for playing such great music. Everyone enjoyed the shows.
And, of course, we need to thank some very Special Guests:
Nathan Nelson J. B. Walker Larry Bowie
Thank you to the vendors including Five o'clock Somewhere from Covington, and Pop's Famous Hot Dogs.
A very special thanks to:

for helping to promote the event by having us on the show.
Thank you to our sponsors...Granite Mountain Harley-Davidson, and Charles W. Watwood, Jr. (Lawbike.com).
And, a very special thank you to Dirty South TV who filmed the event.
And Chicks Kickin' Asphalt appreciated all your donations to help cure breast cancer.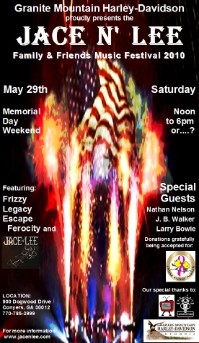 We'll see you next year!!!